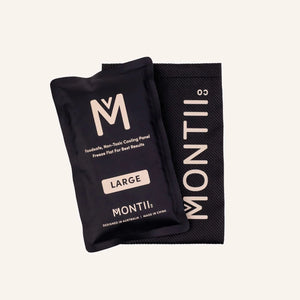 A MontiiCo cult favourite - they've sold over 100,000 ice packs and they continue to sell out over and over again! With up to 8 hours of cooling, they're made to handle the heat!

A Large Ice Pack comes included as standard in all our new Large Lunch Bags*. We love to have a few spare so that you can always have one frozen ready to go!
Check out our new, upgraded version! These new Ice Packs are made with a wipe-clean nylon outer material. The outstanding quality remains with the same gel contents inside, but these new ice packs have a stronger, condensation-free outer layer.
We made this change for increased durability and protection from sunlight and tearing, for inner gel stability. The ice packs remain independently certified "food safe" and still comes with our machine washable cover.

*Does not include Cooler Bags, which come with a Medium size Ice Pack.
Dimensions:
Including cover: 25cm x 14cm x 2.5cm
Excluding cover: 24cm x 14cm
Weight: 500g
Certified 'food safe' gel inner material.
Wipe-clean nylon outer material.
Machine washable fabric cover.