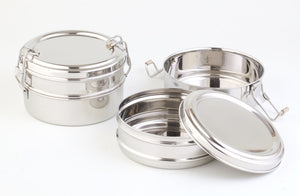 The two layers are held together firmly with two side roll clamps – making it pressure sealed.
---
Perfect for all kinds of food including stews/cassroles,that are not to saucy.
Also good for large Sandwiches, Fruit, Rice and Pasta dishes and will hold generous servings.
---
The container is pressured sealed with roll-clip clamps but contains no silicone for an air tight seal and is NOT 100% Leak Proof.
---
Dish Washer safe
---
INFORMATION

Dimensions:
Volume Total: 500ml
Top Layer: 300ml
Bottom Layer: 500ml
Diameter: ~ 13 cm
Height: ~ 8 cm
Materials:
201 Food Grade Stainless Steel
Origin:
Made responsibly in India.