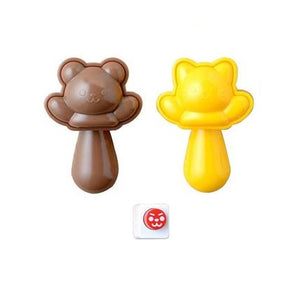 This kit includes 2 rice molds and nori punch and is very simple to use. You won't need more than a few minutes to make cute Onigiri (shaped rice) for lunches and dinners.
Instructions
Cook your rice, using the absorption method. We recommend to use a sticky Japanese rice for an easier process.
Place a rice ball into the mold with handle: this will be the basis for your onigiri. Press down the top of the mold to create your shaped Onigiri.
Use the nori punch and the cutting board to cut features / details.
It's ready!
Features:
This set is made up of a three parts mold and a metallic staple pattern cuter.  

Dimensions : Mold : 10.5 x 7 x 4.5 cm, Punch-out Cutter : 2.5 x 2.5 x 3 cm 

Materials : Polypropylene (Mold), ABS Plastic (Punch)

This product is not Microwave-safe nor Dishwasher-safe.
Imported from Japan
BPA free